At abbeglasses.com, we do our best to ensure that your lenses and frames are produced in a timely manner and meet your vision care needs.
Your vision and your business are important to us. Through our partner's laboratories, professional professionals and internal storage framework stock, we can not only provide you with high-quality glasses, but also provide fast processing time. By cutting off the middleman, we can produce your glasses and ship them to you in the shortest possible time - all over the world. For your convenience, all our orders are accompanied by a tracking number to help you track your glasses!
1. How much is shipping?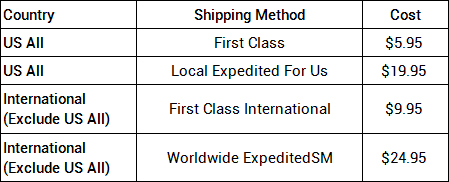 Notice:
(1) Some countries may need to pay a certain import tax. For example, some European countries require CSC.
(2) Packages cannot be delivered to military bases and some islands via express!
(3) Express courier cannot ship to PO Box. Please enter a physical shipping address instead, or the delivery time will be much longer than the estimated time.
2. when can I expect my glasses to arrive?
Since the start of the COVID-19 crisis, we've been committed to safety and customer satisfaction. While our order processing times remain unaffected, our U.S. and international shipping partners continue to experience delays. As such, our policies below may not reflect current shipping timelines. We're working hard to get orders delivered as quickly as possible and thank you for your patience and understanding!

processing time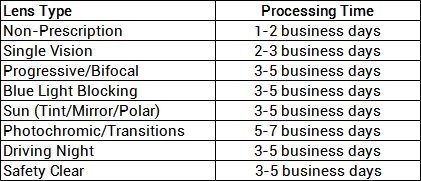 shipping time

3. What do I do if my package was damaged?
Immediately contact our Customer Service department. We will work with you to get your damaged glasses replaced with a new pair as soon as possible.
4. My package is lost. What can you do for me?
If your package is lost in transit, we can reissue it or provide a full refund. We are committed to protecting your basic rights.